Global SMS Gateway API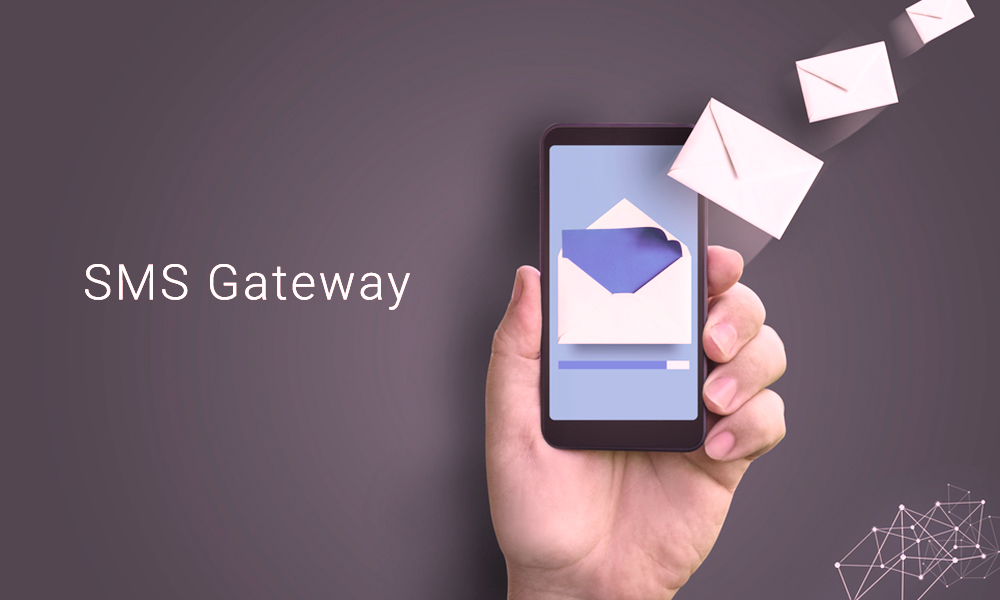 A SMS gateway allows a computer (also known as a server) to send or receive text messages to or from local and/or international telecom networks via the Short Message Service (SMS) or Multimedia Messaging Service (MMS). In most cases, SMS are sent to a mobile phone via a wireless carrier. A SMS gateway, or application-to-person SMS gateway, is commonly used for mobile communications between users. Many SMS gateways support content and media conversions from email, push, voice, and other formats.
The SMS gateway application software allows organizations to send and receive SMS messages to and from an SMS capable device (normally mobile phones) over the networks around the world. SMSCs (Short Message Service Centre) developed by different companies using their own communication protocol and most of these protocols are proprietary, it is impossible to connect two SMSCs if they do not support the same SMSCs protocol to deal with this problem, SMS gateway came to existence.
The SMS gateway acts as a medium between the two SMSCs. It translates one SMSC protocol to another one. In this way two different wireless carriers that are interconnected each other for purposes such as enabling the exchange of inter-operator SMS messages.
Evolution of SMS Gateways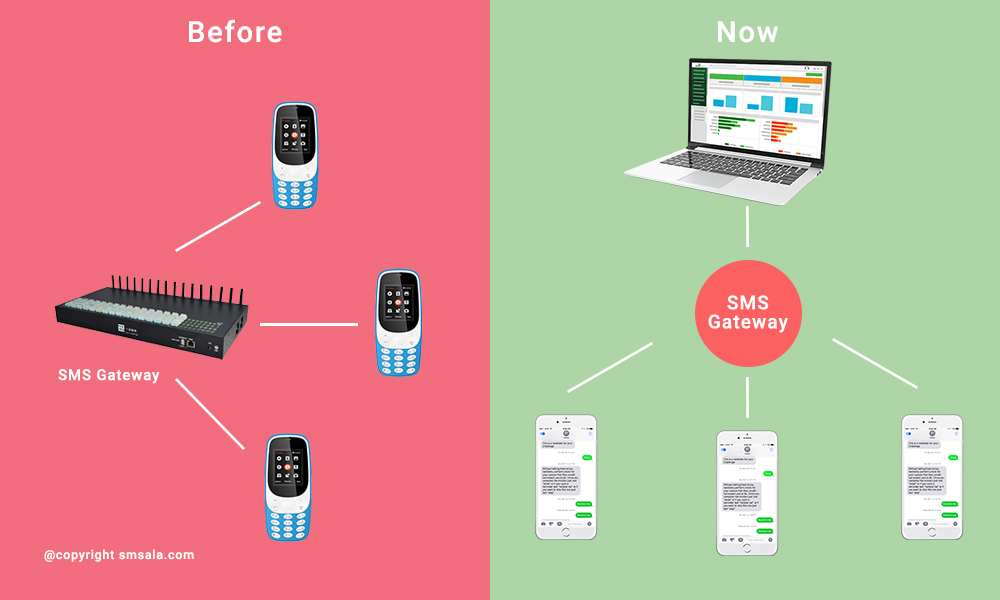 There were times, when SMS Gateways were real physical pieces of hardware with SIM cards. Every SMS Gateway was individually interconnected to mobile phone networks to send and receive SMS messages in a very same way to a regular cell phone.
Currently, SMS Gateways usual route text messages to the Telcome networks via an SMPP interface that networks, disclose either directly or through an aggregator that sells messages to multiple networks.
SMPP is a protocol used by telecom networks that allows exchanging messages between Short Message Service Centres (SMSCs) and/or External Short Messaging Entities (ESMEs).
How Do SMS Gateways Work?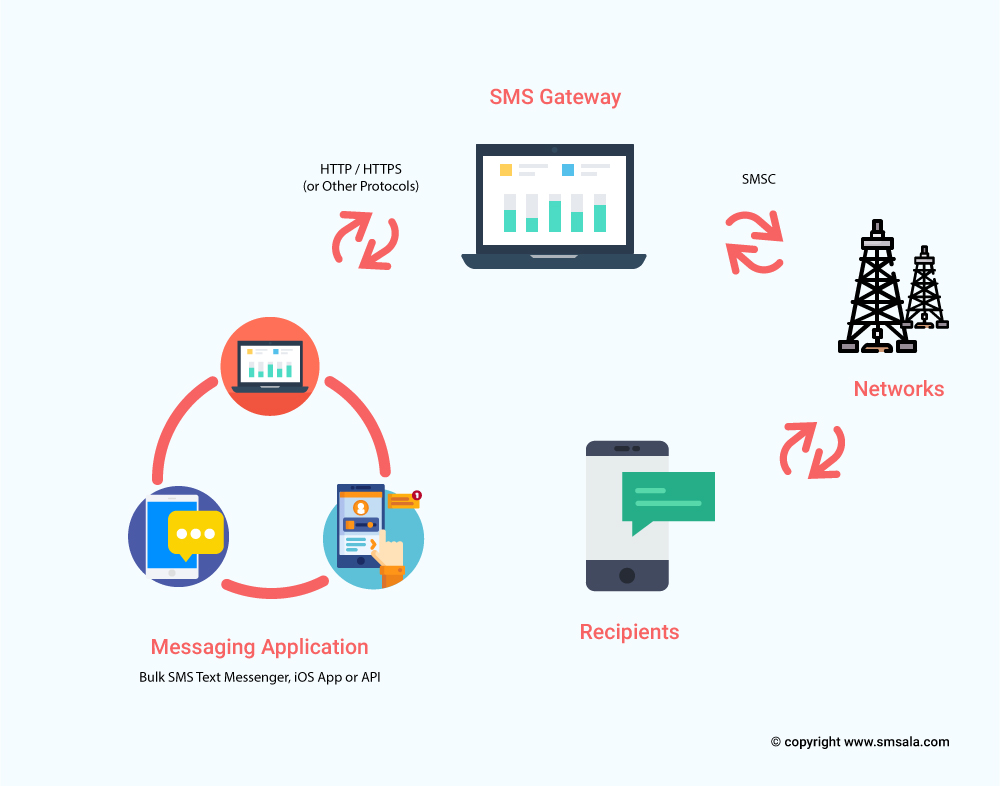 Whenever you received an SMS on your mobile phone from your bank or any other organization and wondered how it got there? Chances are your SMS was delivered through the SMSala gateway which is one of the biggest SMS platforms in the world, delivering messages reliably, securely, and instantly to more than 10 billion people worldwide.
You can send a text message with simple integration with our SMS gateway API, in no time. With a 97% open rate, short message service is a universal mobile solution because it works on all mobiles phones worldwide, regardless of the type of cell phone you're trying to send to. Even the most basic cell phone can receive messages. For example, you want to send SMS notifications to various or all of your customers.
They would have SIM cards from different telecom networks and could be located anywhere in the world. It would be virtually impossible to track the changes that people make to their mobile phones, switch numbers and networks. How would you reliably reach them every time? What would you do if hundreds of people replied to your SMS or want to unsubscribe from further messages? How would you make sure that they didn't receive an SMS in the middle of the night?
With SMSala gateway, you can reach your global customers anywhere on their mobile phones in the easiest and most cost-effective way. Think of the SMSala gateway as a bigger hub that is interconnected to over 1000 telecom networks across the world on the one hand, and your business application on the other. This means that you don't need to connect individually with every telecom network, you only need to connect one – to SMSala SMS Gateway.
Our message gateway will intelligently deliver your text messages at the appropriate time, to the targeted mobile number, on the targeted handset, in the targeted country, anywhere in the world. With our SMS APIs it makes the whole task of integrating text messaging a breeze.
SMS gateway usage
Informing customers about intakes of orders, discounts, and sales;
Building brand awareness;
Saving money on advertising without losing customers;
communication with the customers while calculating the service quality.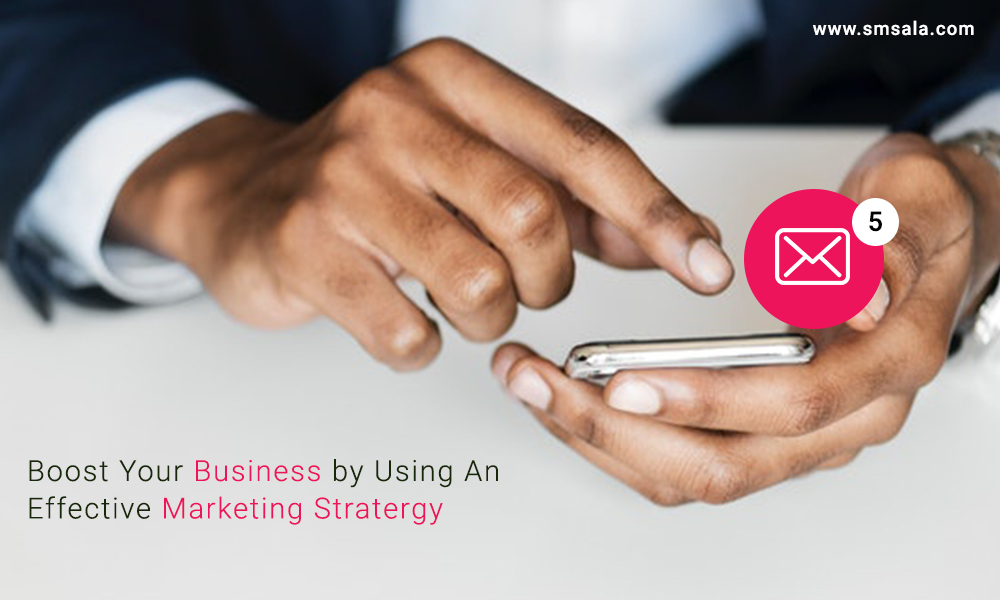 With the power of the message gateway, it becomes possible to resolve the complication of customer feedback. Clients can send their opinions, complaints, and suggestions on development to the company. Besides, using the message gateway you can plan for a survey among your target audience. This can be a great chance to learn your client's opinion and improve your work for the better with minimum costs.
How to Choose Your Bulk SMS Company Service Provider?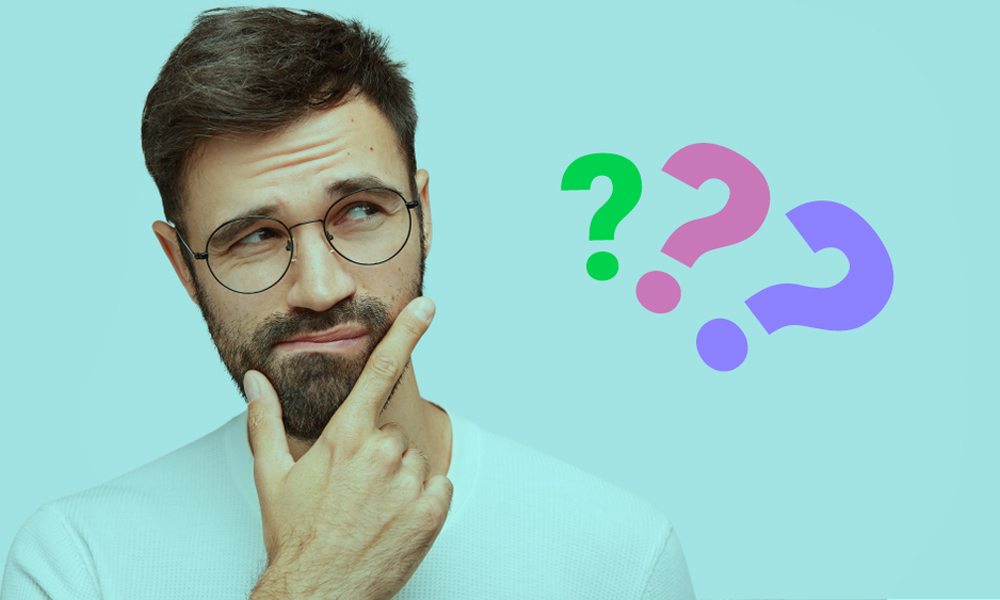 One of the Biggest challenges you can face when adopting SMS as a marketing strategy is finding the right Bulk SMS company. There are so many of them, you'd be confused as to which one to choose. However, assessing Bulk SMS companies based on the following factors will help you choose the right one.
1. Age
A five-year-old company is far better than a five-month-old company. For a company to run for five or more years is no small accomplishment, and that speaks the amount of the company's experience and commitment to quality service delivery.
And its enough proof that the company won't disappear into thin air. A simple website Who is search of the domain name of the company's Bulk SMS site can help you determine how long a company has been in the business.
2. Reputation
Age alone is not enough to tell a good Bulk SMS company; an old company might not necessarily be a good one. So, find out what people are saying about any Bulk SMS company you're seeing.
If there are too many bad reviews about the company, then move on. Social networks and Google can be of great help here. Simply you have to type the name of the company website plus the word 'reviews' on any social network like Facebook or on Google and see what people are saying.
3. Customer Service
Good companies have a responsive customer service setup. Before going with any "Bulk SMS company", test their customer service for responsiveness by sending them a message.
A quick reply signals good customer care. Call them up and hear how they sound or what they say. Ask them interesting questions like how they intend to compensate you if you are not satisfied.
4. Offers all Kinds of SMS Services
The single provider who can offer SMS platform that is robust to handle different types of SMS is a huge advantage. Be it Bulk SMS or promotional, transactional SMS, having a single SMS provider makes it easier for businesses to plan their marketing campaigns more effectively. This will enable businesses to reach a larger target audience.
5. Test Before Buying
Test if your SMS service provider is ready to offer you a free sign-up for a limited period of time to check the services offered. By doing this you can experience first-hand the capability of their SMS gateway platform and rate of delivery.
6. Reliability Acts as Key
The service provider that is reliable will ensure a higher level of uptime, allowing very low room for error. At SMSala, we have an uptime of 99.9% and offer a secure platform to deliver messages successfully.
What is an SMS Aggregator?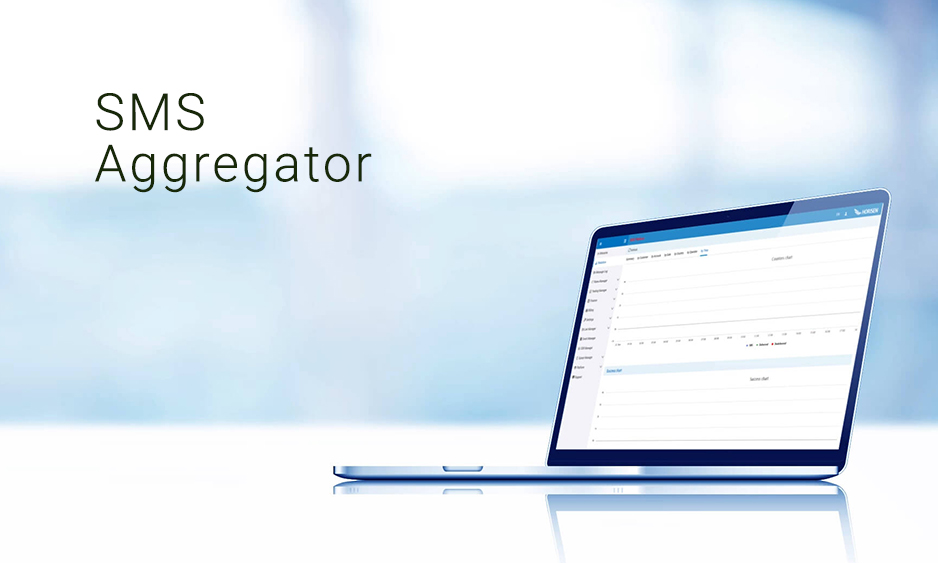 SMS gateway application providers are referred to as aggregators. The aggregators can have different and multiple accords with the biggest telecom network providers, such as AT&T, and Verizon Communications in USA or Du Telecom Company, and Atlas Telecom in UAE, to send and receive SMS text messages through these networks' SMS centres.