What is Mobile Marketing & Why Brands Need It
The dependence on mobile phones has increased drastically over the last decade or so. This has led to the phase of traditional marketing being taken over, not completely though, by Mobile Marketing.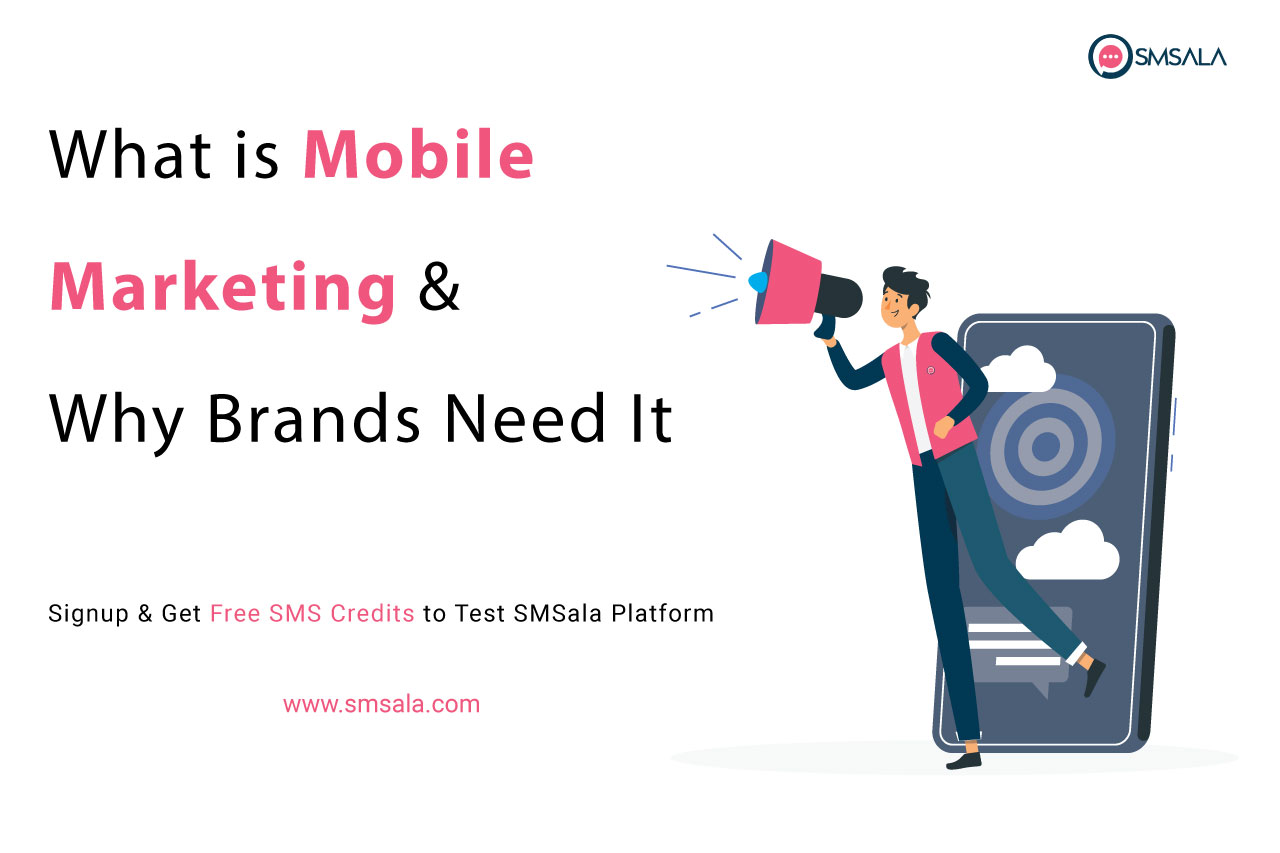 People spend most of their time on mobile phones. For those working in offices or at any other workplace, handling or keeping a smartphone nearby has become a norm.
There hardly passes a moment when people are not attached to these hand-held gadgets. This behavior change has an impact on everything we do day in and day out.
Businesses, big and small are no exception. They too had to change and shift their way of interacting with potential customers. Any entity that does not respect the time and remains stuck with the old method, faces a decline in revenue or even the risk of closure. This happens because they rely on an old model of marketing in present changing scenarios.
So, to better understand the latest form of marketing, we have discussed below everything in detail.
What is Mobile Marketing?
Any marketing activity that promotes the goods and services of a brand via mobile devices, such as feature phones or smartphones is called mobile marketing. Here the companies use websites, Bulk SMS, MMS, and various social media platforms to reach the intended target audience.
The audiences of mobile marketing are grouped by behavior and not by demographics. This type of marketing is cheaper and easy to manage, unlike traditional types of marketing.
Mobile phones have revolutionized the concept of marketing. Now, it is far easier to get your message across than it previously was.
Also Read: Promote Your Brand with Mobile Marketing
Statistical Figures of Mobile Marketing
It has been concluded in various surveys that the use of mobile phones is going to increase at a rapid pace in the coming years. According to eMarketer:
1)  Mobile versus desktop usage stats in the United States in 2018 show that the mobile-only audience will grow to 55.7 million (nearly 19%) by 2022.
2)  Today, there are more mobile devices in the world (8.7 billion) than people (7.1 billion), mainly due to our fascination with gadgets that flood the market.
3)  U.N. data analysts have found that in the United States, 71.5% of citizens over the age of 13 have a smartphone, and 66.5% have smartphones globally (WorldoMeters U.N. data, GSMA Intelligence).
4)  As per a study by We Are Social, 5O% of the world's population owns a mobile phone, and surprisingly 9 new phones are added every second.
How Mobile Marketing Works
As has been discussed earlier, mobile marketing includes promotions sent through Bulk messages, MMS multimedia messages, and pre-installed applications or downloaded ones. Each platform works differently:
Bulk SMS: In this channel, the brand sends promotional messages to a large number of customers at once within a matter of seconds. This reduces reliance on other forms and its cost-efficiency and unmatchable speed make it stand out from the rest.
Multimedia Messages: This provides the marketer with an option to interact visually with loyal as well as prospective customer base. With MMS messages you can send relevant pictures, graphical content, and videos. You just have to choose clients from the database and send visually appealing content to lure clients.
Facebook: The use of this social media site has of late increased tremendously and no one wants to remain behind. Companies around the world are using this channel to reach customers. This is highly effective since most people are connected with it.
Whatsapp: This messaging app is making the job easier for marketers. Here they are able to send not only texts but multimedia files at the same time. Many companies remain in touch with customers through this app. For instance, if a customer books a room in a five-star hotel, he/she gets all the related information on Whatsapp. The Whatsapp business option is playing a major role in making this a go-to channel for advertisers.
QR Codes: Of late the use of quick response codes has seen a spike. Now, almost everywhere these codes can be seen in shops, malls, restaurants, and hotels. This is thought to be the easiest way to communicate about and build your brand.
If a customer searches for "nearest restaurants" you must be able to convey this within no time using a mobile marketing channel.
In mobile marketing the screen size does make a difference; smartphone users and Ipad users respond differently to mobile marketing. It has been seen that smartphone users find informative content to be relevant, while iPad users prefer interactive advertising. Here the appeal matters more than the content included.
Also Read: SMS Marketing For Your Business
Mobile Marketing vs Traditional Marketing
The traditional one is much more expensive while mobile marketing is cost-efficient.
The presence of traditional is restricted but that of mobile is not space-bound.
People can be reached on their devices which they carry along, but television and radio sets cannot be carried everywhere.
Mobile campaigns are more effective than traditional ones because they are tailored according to the specific user. This is not possible in television, radio, and newspaper advertisements.
Are you not yet convinced of how effective mobile marketing is? If so, then read below some success stories:
The North Face
One of the leading outfit providers in the world is using Geo-Fencing to lure more customers into their stores.
Customers sign up by providing a mobile number and activating their mobile GPS feature. As and when they come close to a store, they receive a text message reminding them of the store.
This mobile marketing technique has been responded to very well by customers. 79% report they have increased their visits to the store and 65% made a purchase as a result of the reminder.
American Red Cross
Following the earthquake, American Red Cross ran an SMS campaign. People were asked to donate by text message which resulted in $50 million in donations.
So, how can you convert this journey into a successful campaign as others have done?
Below are the 1O Points to be Followed by Old & New Players Alike:
1. Make a mobile-friendly website
Since most of your interaction with customers will be on mobile phones, it is advised to make your mobile-friendly site one. Your website should fit the mobile screen. This is the first and foremost step to be taken by one treading into this vast field.
Every section should be visible and overlapping must be avoided. This, if left unattended, will push visitors to exit the moment they access the site.
If you have an existing website, many companies come up with automated systems that convert your existing website for viewing on a mobile platform.
There is an alternative to writing a computer code that will automatically detect the screen size and fit according to the need of equipment.
2. Go to the customer
The need to reach customers is important for any brand. You cannot expect a client to visit you unless you are known to him. That is why it is suggested you take the pains of reaching them. If you don't do so, any other brand from a different corner of the world will catch the opportunity, leaving you behind in the competition.
Firstly, you ought to find out your target audience. Choose the group and make an advertisement specific to that lot. This will help customers discover you and the connection starts from thereon.
3. Use Bulk SMS
If there is one that is the most effective communication channel among other mobile platforms, it is text messaging. This is because SMS has a 98% open rate and people tend to respond quickly compared to other advertisements.
At times people may not have access to the internet, but messaging service is not internet-dependent. You can send it anywhere but time must be considered.
4. Crisp Content
The mobile marketing team must keep in mind that people on phones prefer short and attractive content. You can send longer sentences explaining your products or services. The best rule to be followed is the shorter the better. Longer headlines must be avoided at any cost.
The ABC method must be adhered to while writing for mobile users:
Accuracy: The information provided has to be error-free. Facts are paramount not only in news writing but also in marketing. You cannot deceive customers by giving wrong information.
Brevity: As has been told, keep the sentences and headlines as short as possible. Catchy headlines do grab the reader and hook the person at the same time. Longform writing is not required at all. Gen Z and millennials have a short attention span which you will be catering to the most.
Clarity: Whenever you want to convey something, you must be clear in your message. The clarity feature cannot be overlooked. There should not be any ambiguity while communicating with clients. If the message has not been properly transmitted, chances are customers will not respond as desired by the advertisers.
5. Make the message personal
This is the best way to get in touch with your customers. The personal touch in every message will make it more effective, and the one reading it will feel connected. This not only helps in creating a bond but the user feels valued. Brands that give a personal touch are more famous than those seeking only profits.
There are other things one must remember while getting into this field like creating an app, adding still pictures in your campaigns, and more importantly, multi-channel campaigns ought to be a priority.
6. Location-specific Marketing
This type of marketing helps when you want to target customers based on their location history. What you have to do is ask the subscribers for access to the location so that you can share with them the related information.
The concept of geofencing is very helpful for local stores. The moment they come across a customer who is near the shop, a simple text will arise curiosity in him. This technique has helped The North Face, a well-known outfit provider in the world, reach customers and above all increase purchase rates. The use of location-based marketing does help push traffic to your website and subsequently, the desired call to action is acted upon.
7. Use of Social Media
Since the increase in the use of the internet all over the world, social media networking sites are grabbing much more attention. People are spending more time on these messaging apps in the virtual world than with people around them. This behavioral change has made the task easy for brands to reach their customers.
What needs to be done is to focus on social media advertising for instant communication with the targeted group. The use of social media advertisements is in vogue and no entity can afford to remain aloof in the digital era we all are part of.
8. Avail of Voice Search
The easier it becomes, the better the customer feels. Instead of relying on text searches, people nowadays are preferring voice searches. For instance, google voice search has made it easy for people unable to type. One can now just command google even if the device is not close by.
This option is being carried by many to make the experience of customers as smooth as possible. Adding this feature will help like it's assisting other brands to stand out.
9. Track the response
This is something no one can ignore if the goal is to get to the top. You cannot share on a platter what is not demanded by the customer. That's why following and tracking the response of your consumers cannot be brushed aside.
Any brand that is influencing from north to south has given due time to understand the reaction to their marketing campaigns. So, to succeed tracking the response becomes mandatory.
10. Get the Nod
Never ever send promos without getting approval from a customer. This option ought to be the priority. If you are looking forward to communicating with customers, you simply have to have a window on your website for sign-in purposes.
Conclusion
Unlike other forms of marketing, mobile marketing is affordable and is the need of the hour for all those enterprises who want to stay relevant and get in touch with the desired audience as soon as possible.
If you plan to start this journey of mobile marketing and stay ahead of others in the field, then SMSala is the Bulk SMS provider you can rely on for streamlined and cost-effective service.
We give you the option to test our service for free to make the benefits of our service known to you. For trial purposes, we provide you with 20 free messages.