Importance of SMS in the Automotive Industry
Like in any other sector or industry, the usage of SMS channel for marketing and promotional purposes can bring extraordinary benefits to the more in-demand Automotive industry.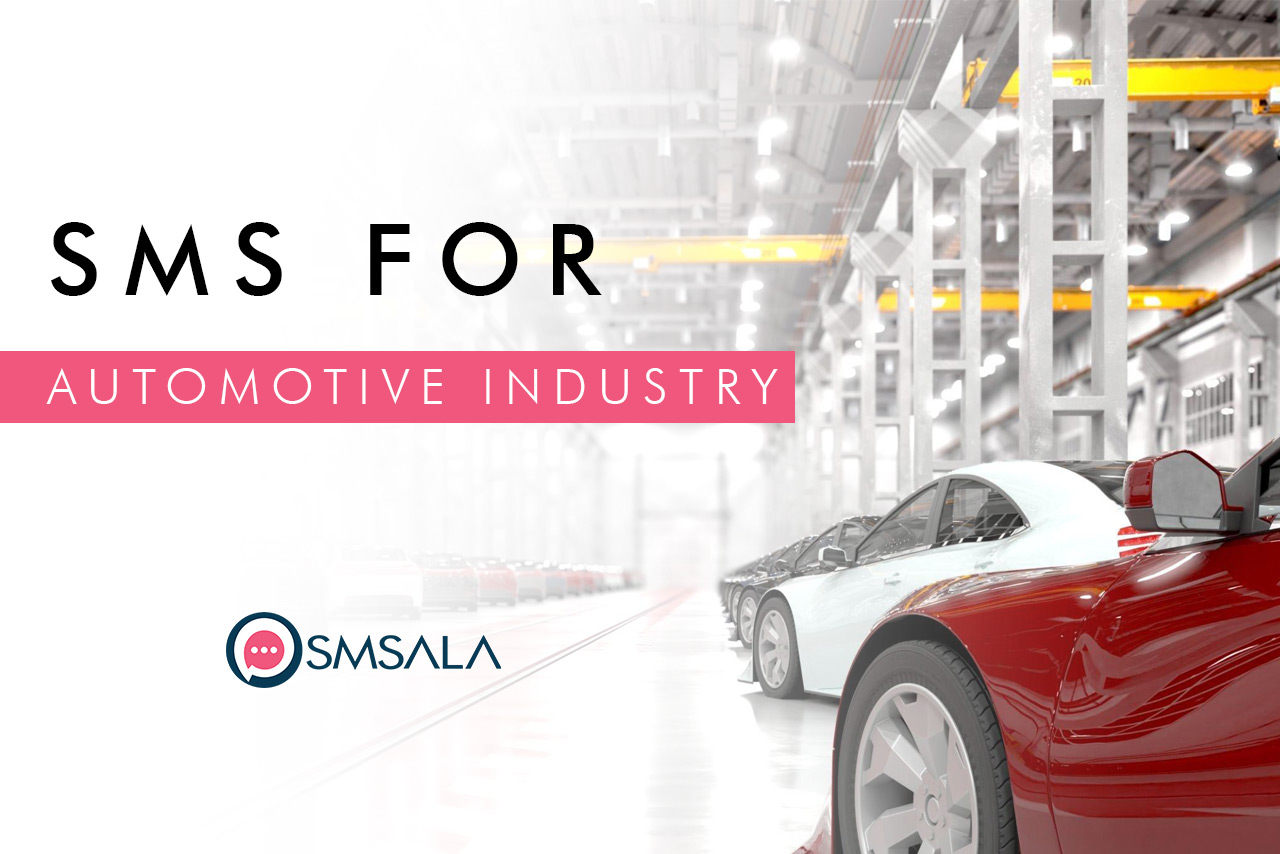 Not only reaching out to prospective clients but text messaging can also be used to better serve clients on a priority basis without any delay. The channel is serving many in other sectors with resounding results and more and more industrialists are preferring it over other channels of communication. 
One of the main reasons is the channel's cost efficiency along with higher engagement rates. Businesses find it easy to connect with loyal and potential customers using the now-in-vogue A2P SMS for wider reach. Over the years the usage of SMS has changed quite a lot. Earlier it was used by people with immediate family members and near and dear ones, which is called P2P Messaging in the industry parlance.
But now with the introduction of Bulk SMS, businesses have found a channel that was missing earlier. To know further about the channel and enhance your business prospects in the automotive industry, let's dive into the reasons why this ought to be the first preference of anyone either starting afresh or with years of experience.
This is where the medium outshines others and brings the desired results to all those who employ it. Unlike Email Marketing which was the dominant norm earlier, SMS Marketing with its nearly cent percent open rates has become the go-to option for many around the globe. An email has less than 30% open rates and due to the necessity of opening a separate app along with the need for an internet connection, people opt for an immediate and direct channel of SMS.
When employing the Text Messaging channel the costs are relatively less compared to other forms being used by businesses to reach out to customers. However, what must be remembered is that the cost varies from destination to destination. The charges are different for domestic and international use. If brands, for promotional purposes, still rely on the expensive yet not-so-effective traditional mediums of mass communication, the return on investment is what will be a cause of worry for the marketing team.
People even from the remotest areas anywhere in the world can be reached using Bulk SMS services. There are certain areas where internet penetration is still elusive. But almost every corner is covered by mobile phones. They may not be able to have a video call but you as an entrepreneur can get in touch and deliver services and products to them using SMS services.
Where To Employ SMS In Automotive Industry
The usage cases are aplenty for any new, established, big or small player in the industry. We have assembled a few below:
Contacting Prospective Clients
The best and most suitable way to get across your marketing message is by sending a concise message that is written keeping in view the requirements of those who look forward to using your product and services. For reaching the maximum numbers with immediacy the 160-character channel with its features is the channel to adopt. This will not only ensure your message is read and responded to instantly but more and more will prefer seamless communication.
Lending Ear to Customer's Needs
No other channel can best serve your customers than SMS because of its immediacy and instant response. Nowadays clients do not prefer calling over the phone when discussing their queries. The reliance on text messaging is increasing because people are not made to wait due to the usage of SMS autoresponders. Most of the issues are solved without even the agents getting involved. This not only saves the business financially but the precious time of agents can be utilized elsewhere.
If you are in the automotive industry and have not used the ever-efficient SMS channel yet, It is time to switch and get in touch with Bulk SMS provider, like SMSala that would cater to your needs and help you grow exponentially.