Top 5 OTP Service Providers in The Messaging Industry
We are in an age where the majority of transactions take place digitally. The ease and immediacy of online services are what drive most of the traffic, but there are certain drawbacks that if not addressed will make the process much more difficult for all the users. In order to avoid fraud and fake logins, service providers come up with the OTP service for 2-factor authentication.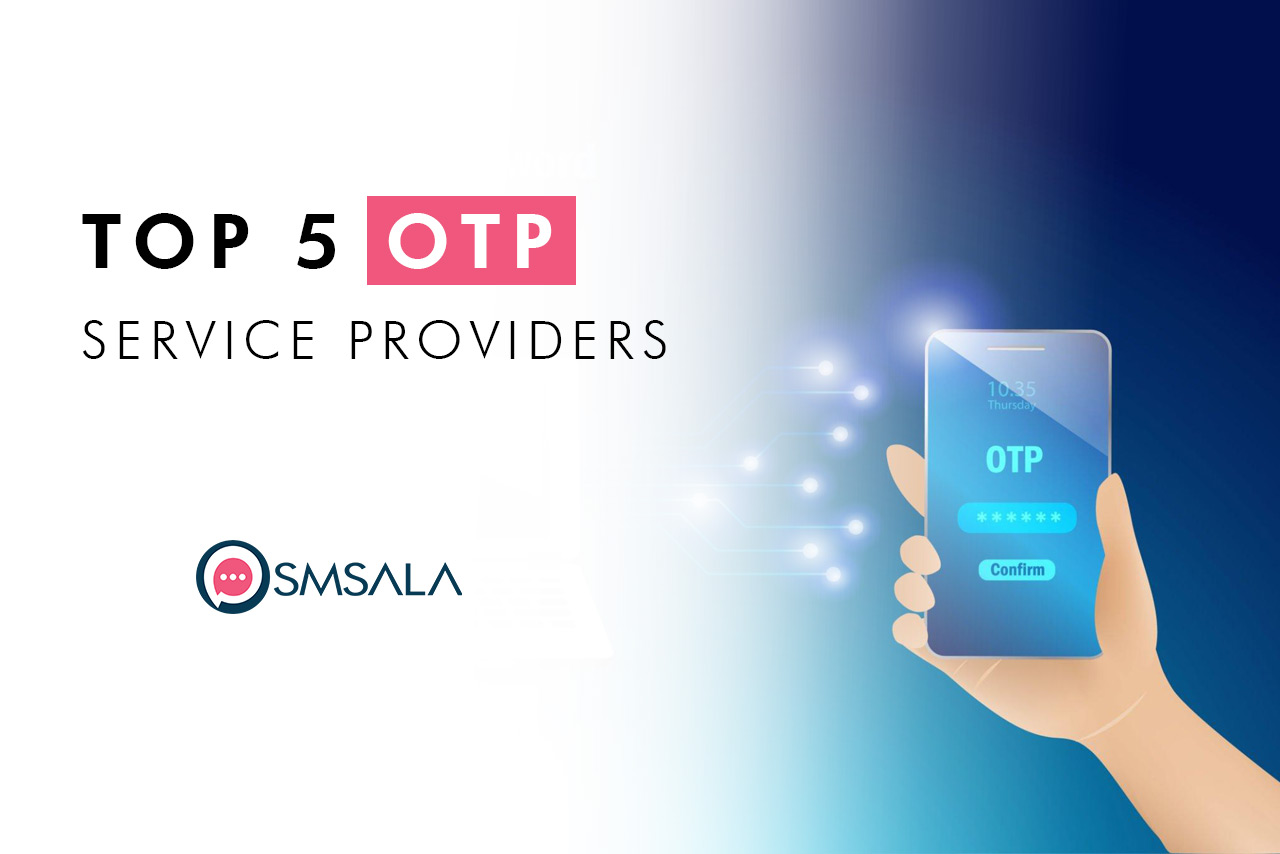 These OTPs are used not only for online banking purposes but even logging into now widely used social media networking sites requires 2-factor authentication for people to access them.
To send these one-time passwords to customers, businesses use the services of OTP service providers from around the world. If you are a business or a brand that is seeking to use these services, it is necessary to know the Top 5 OTP Service Providers globally.
But before going through the list, let us know One Time Password in detail.
What is One Time Password?
This is a four or six-digit code sent in real-time, having a predetermined shelf life of usually five minutes, for secure and risk-free transactions on the internet. Moreover, this passcode is single-use i.e one code cannot be used for multiple transactions.
This is used to protect customers from fraudulent cyber attacks rampant in the age of the internet. The use by banks has grown manifold because it maintains much-needed security while transacting online.
SMS is chosen for sending verification codes only because it's the most preferred option available to all micro and macro companies. This is a feature every phone comes up with; whether smartphone or all others in the market.
It is such a communication channel every phone user can use even if internet connectivity is missing. Also, the need to download another specific app is not needed at all.
Criteria for choosing from the Top 5 OTP Service Providers?
Here are some of the criteria for choosing the Top 5 OTP Service Providers:
Reliability and Security: OTP messages contain sensitive information, so it's crucial to choose a provider that offers reliable and secure services. Look for providers that offer high delivery rates, encryption, and two-factor authentication.
Ease of Integration: The OTP service provider should offer easy integration with your existing systems and platforms. The provider should have clear documentation, developer-friendly APIs, and SDKs to make integration seamless.
Cost-effectiveness: OTP services can be expensive, so it's essential to choose a provider that offers cost-effective solutions. Look for providers that offer flexible pricing plans, volume-based discounts, and no hidden fees.
Customer Support: The

OTP service provider

should have excellent customer support to help you with any issues that arise. Look for providers that offer 24/7 customer support, live chat, and phone support.
Additional Features: Look for providers that offer additional features such as reporting and analytics, customizable templates, and the ability to send messages in multiple languages. These features can help improve the effectiveness and efficiency of your OTP solution.
By considering these criteria, you can choose the Top 5 OTP Service Providers that meet your business needs and requirements.
OTP Service Providers You Can Rely On
SMS is the channel used for sending verification codes only because it is the most preferred option available to all micro and macro enterprises around the globe.
Some of the widely used OTP Service Providers that businesses use for efficient and timely communication are given below. While choosing the provider it is important to choose wisely and bank on those that will not falter when in operation.
A Dubai-based Bulk SMS Provider has been in the messaging industry for the last several years and has been a leading player in the market. The OTP service of the provider is highly sought after by businesses around the globe.
Founded way back in 2005, the US-based company helps brands secure onboarding, and maintain account integrity while preventing fraud and streamlining omnichannel engagement. This is one of the most reliable OTP Service providers currently in the market.
With more than a decade of experience in the messaging industry, Bengaluru-based OTP Service Provider lets you send OTP SMS with high deliverability and low latency at the same time.
The messaging platform that is leading in offering OTP Messages has been in the market for the last several years. The name is what the service provider lives up to.
This is another well-known Service Provider that is being widely used and relied on by brands around the world. Using their 5-minute sign-up, leading brands in respective sectors are paying only for services they use.