Employing SMS Templates For E-Commerce
Over the past several years, mobile phone communication is becoming the new norm, and more importantly, the SMS channel is being heavily relied on. Not only manufacturers, but e-commerce sites are also choosing the cost-efficient method for effective communication. To further ease the Job SMS Templates are used by marketing teams.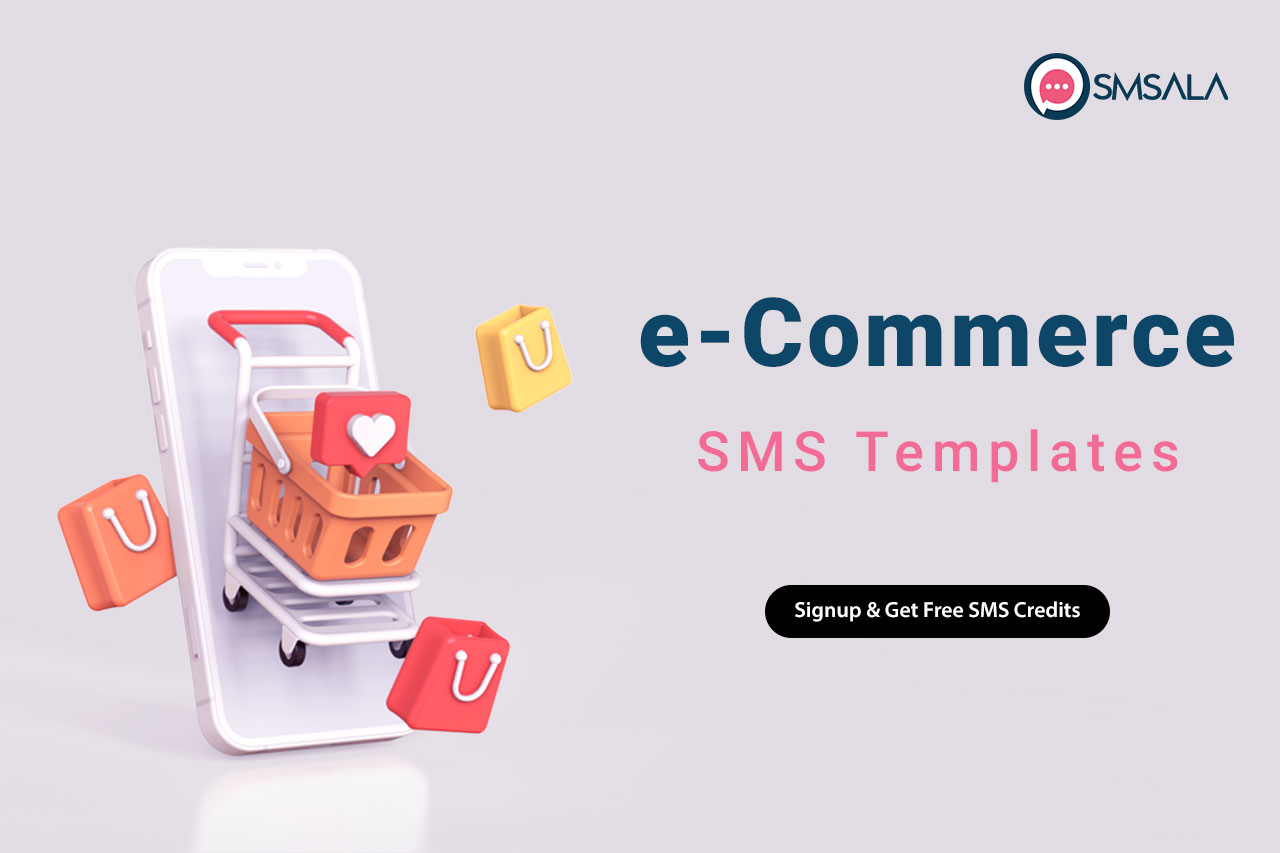 The number of mobile phone users is increasing all over the world at an unprecedented rate, making the tool most suitable for communicating with loyal and prospective customers. It would not be wrong to say that in coming times, with the kind of open rate, SMS will be the most preferred channel of communication for businesses of all sizes. Those who plunged earlier are leading the way and growing profits at an exponential rate.
Also Read: SMS Marketing For Ecommerce
Some SMS Templates for eCommerce
Given the character limit in texting, you as an e-commerce website are expected to convey maximum in minimum words. The message has to be persuasive and friendly in nature while communicating with your customers.

Below are some of the templates you can use to make your SMS marketing campaign successful and one with desirable ROI.
1. Welcoming a Customer
As soon as any new client signs in, it is, as an e-Commerce platform, incumbent upon you to welcome him/her with a message that leaves a long-lasting impression. This is your first point of communication with a prospective client, which if left unattended will have serious consequences for the growth of your business.
The customer has given you permission to sell him/her what best suits his/her needs and desires. The most direct way of engagement deserves to be welcomed with a thank you message and if possible a discount or an offer will build the rapport.
For instance: Hi Zahid, Thanks for subscribing! For your first order with 30% off, reply with code SHAAN
2. Order Confirmation
Who does not want to be informed about the purchase he/she has made? This not only lets the customer track the order but also all the delays can be communicated via this channel.
Once the purchase is made, you can set an automated reply thanking the customer and sending out details about the order.
For instance: Hi Anzar, Thanks for shopping with us! The order has been shipped. You can track the status here: haya.com/myorder
3. Feedback From the User
Following the purchase from your platform, it is advised to seek feedback or review from your clients. This not only helps you in filling the loopholes but makes the user feel valued when asked to share his/her comments on the product or service used.
For instance: Hi Zaid, We expect you found the product as you had expected. Could you share your views on the link here
4. Abandoned Cart
One of the serious challenges for e-commerce platforms anywhere in the world is cart abandonment. But the issue can be fixed by sending out a text reminder as and when needed. You can make them buy and increase the sale and profits simultaneously.
For instance: Hi Ahmad, You have some items in your cart. Buy the products now with a 20% discount.
5. Promotional Template
The necessity to promote is felt by all and when done with an eye to catch new customers, adding an offer or discount does lure many. With its open rate, SMS opens up many possibilities for e-commerce platforms.
For instance: Hi Ali, We are having a special offer on our tech products. If you are tech-savvy, do checkout the deals ending on Sunday here
6. Special Days Template
Remembering someone on his/her birthday or on a special occasion does make a difference. Sending out a message with a special offer may win you, customers.
For Instance: Happy birthday Zain! On this special occasion, we are offering you a 30% discount to make it even more special for you
7. Seasonal Template
Another very good way to attract prospective clients is by sending out offers with changing seasons. This has proven to be of some help in garnering customers.
For instance: Hi Tahir, Winter is setting in and we are offering you a special winter off. Hurry up it's closing on 30th Nov
Conclusion
For e-Commerce platforms, SMS is a very handy channel not to be missed. Using this will not only help in driving sales but the higher Return on Investment makes it the go-to channel for all businesses. If used as suggested in this article, the returns will be aplenty.