Common Misconceptions About SMS Marketing
Although businesses — big and small — are employing SMS channels to communicate with customers globally, there are still some naysayers to the power and effectiveness of text marketing. This is mainly because of some misconceptions about SMS marketing that are prevalent in the market.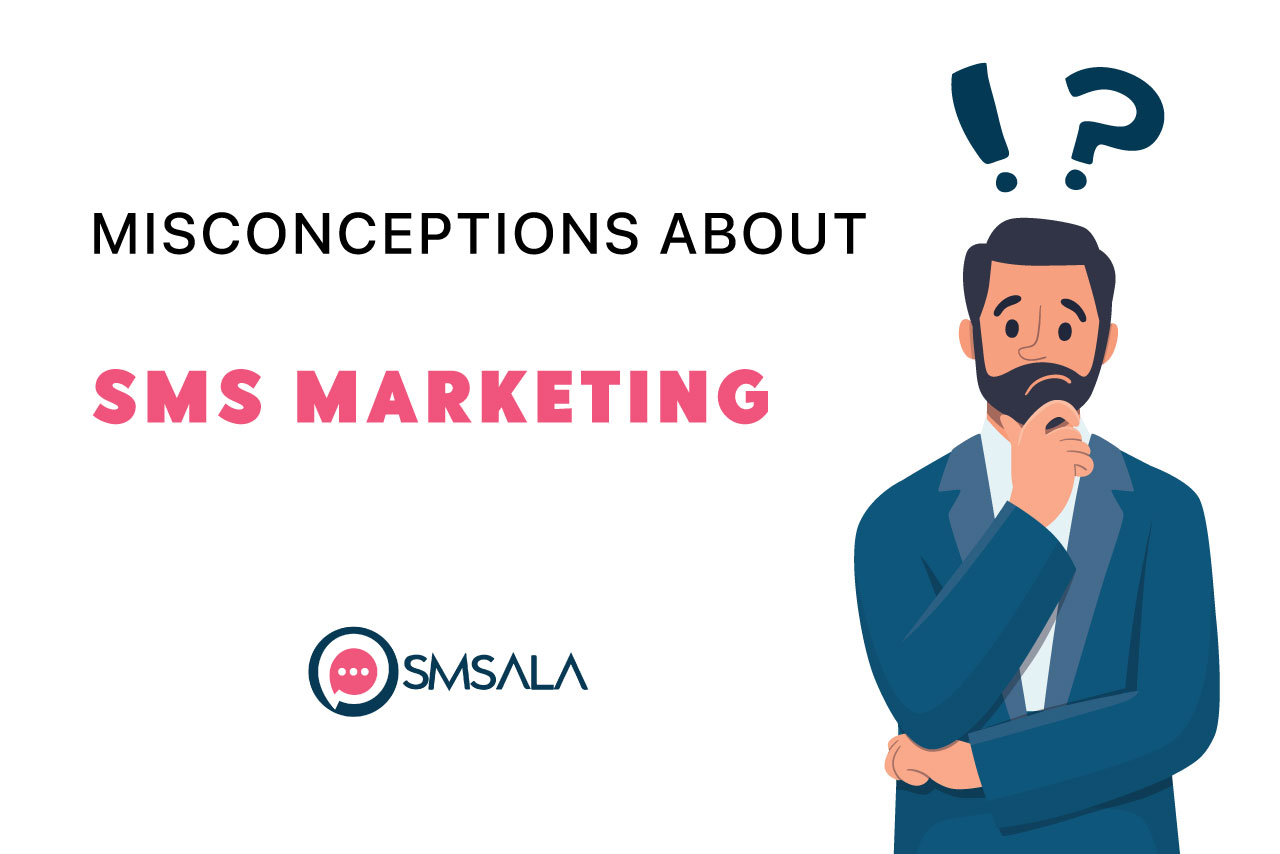 In the last decade or so, the use of mobile phones has increased substantially all over the world. With advancements in communication technology, people are getting an opportunity to spend more and more time on hand-held gadgets. The inbuilt message option does provide the brands a window to communicate with clients directly.
However, those who are yet to start with this marketing option, are either victims of misunderstanding or have not ever tried the cost-efficient and streamlined channel of SMS. Bulk SMS has innumerable benefits for those using it for promotional purposes.
Some Misconceptions About SMS Marketing
So, if you have not used SMS marketing yet and are reluctant to start off with the SMS services, we have discussed below some of the misconceptions that may possibly be hindering you from availing the benefits of one of the cheapest yet most efficient channels available to corporations and enterprises around the globe.

Comes uninvited
Many marketing teams of corporations and startups are wary of going anywhere uninvited, which is good. One should not get anywhere without being invited. But the concept that SMS Marketing is not permission based is faux. There is a proper way to engage with your clients. We cannot send promotional messages without getting prior permission from the receiver.
There is a standard that has to be followed by marketing teams. The way to connect is to ask the customer if he/she intends to receive promos from your brand. Once the customer gives the green signal by signing up for the campaign, only then you can send marketing messages at a particular time of the day. Usually, the time begins at 9 AM and ends at 9 PM for communicating or in other words promoting your brand.
Restriction Bars
For some, there is this misunderstanding that SMS corners them and marketers are not able to freely and comprehensively text about the brand's image.
This is also not true about the text messaging service. Considering the attention span of customers and the abundance of content they are presented with, the 160-character limit actually has become a blessing in disguise for marketing teams. Clients get to read short texts instantly while doing other chores. However, this is not possible with long-written emails and cluttered social media posts. Clear and concise messages are way better than rambling endlessly without getting to the point.
Not as efficient as other channels
Another misconception deals with the efficiency of the channel. When compared to other channels — email, and social media — being used, SMS outsmarts all with its 98% open rate. No other channel is engaged with to such an extent as the SMS channel. So, the question of effectiveness should not arise in the first place.
The Return on Investment
Many are concerned about the returns if in case they decide to invest in SMS marketing. One of the cheapest services comes up with returns unthinkable by marketing teams. There is a reason businesses are shifting from traditional marketing to this highly profitable marketing channel.
Monitoring the campaign
The concern is genuine but misplaced. SMS service providers also let you keep a tab on your campaigns. You will get all the related information about the campaign you are running. This will let you know the limitations that you have to avoid in the future.
Now, If you are satisfied and got all your misconceptions cleared and plan to start this journey of SMS Marketing and stay ahead of others in the field, then SMSala is the Bulk SMS provider you can rely on for streamlined and cost-effective service.
We give you the option to test our service for free to make the benefits of our service known to you. For trial purposes, we provide you with 20 Free credits.