How Business SMS Differs From Personal SMS
The method of contacting people is changing at a rapid pace, but with the advancement in technology, options are aplenty. To communicate with family and friends people use personal SMS and enterprises have shifted to business SMS for streamlined communication.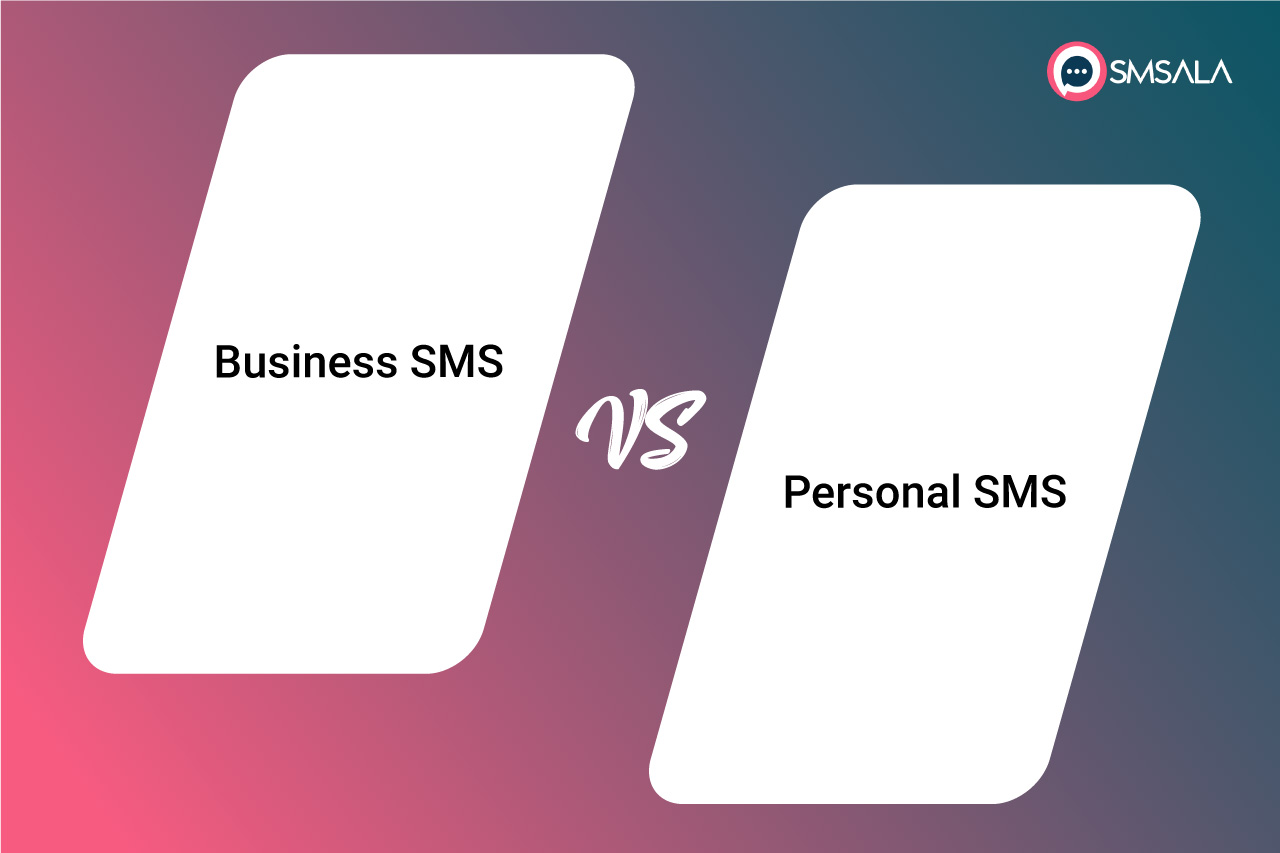 Texting can be used to communicate with your loved ones but one that requires you to be more professional for work purposes is business texting. Some small-scale enterprises may think of using personal SMS for work purposes.
However, that is not the most viable option. This is because personal messages are sent on mobile phones while business-related communication is done through business SMS.
What is Personal SMS?
Personal messages are sent using a mobile phone. These messages are mostly sent to your loved ones or your acquaintances. People generally communicate with relatives and friends via these texts.
Personal SMS are usually sent to one person at a time. While this type of SMS can be used for your business purposes, there are certain limitations that will make the job more complex instead of easing the process.
On the other hand, business SMS not only streamlines the process but the necessity of sending to a large number of customers is sorted.
What are Business Text Messages?
Messages that are sent in Bulk to an end number of customers at the same time with the aim of either promoting your business or sending out important information to loyal as well as potential customers.
These texts are formal in nature but can be friendly and always related to the company. Since businesses deal with Bulk SMS, the sending of messages is automated.
A barrier in personal messaging is easily taken care of in this type of messaging. You don't have to manually type the required information, the platform – like SMSala Provider – helps you in the process from beginning to end.
Use cases of Business SMS
Besides sharing timely information with customers, businesses – small and big – can schedule campaigns, share offers, discounts, and any one of its kind deals with customers via Business SMS.
Below are some use cases:
For promotional purposes and reaching out to thousands at the same time can be done here.
Information about orders can be communicated to customers.
If you plan to offer discount coupons or vouchers.
Whenever a new product or service is launched, customers can be informed easily without spending a hefty amount on television, radio, and newspaper advertisements.
People can be reminded about the appointments.
Customers can interact with brands with the help of texting.
The difference between Personal and Business SMS
While both are useful in their own way, there are some differences. The possibility of sending messages in bulk at the same time is what separates business SMS from personal SMS.
Some differences are discussed below:
You will not use your phone to send thousands of messages to your customers. But this task can easily be done using business text messaging.
You can be available round the clock when using business SMS. This is not the case with Personal SMS.
You can converse with innumerable customers at the same time via Business SMS but not in Personal.
Automated campaigns are possible with business texting, unlike personal SMS.
You can measure the performance of your campaigns in Business SMS but not in personal SMS.
Conclusion
Both types of methods are important in their own ways. One cannot be replaced by another. However, for the exponential growth of your company, using business SMS is way more beneficial. Sending Blast SMS campaigns for wider reach is possible with business text messaging.