5 SMS Marketing Mistakes to be Avoided
Communicating via an SMS channel with your loyal and potential customers is not a new phenomenon. It is in vogue for the last many years and brands — small and big — are employing it expecting higher Return on Investment (ROI). While the return is undoubtedly profitable, keeping SMS Marketing Mistakes at bay is the key when sending Bulk SMS.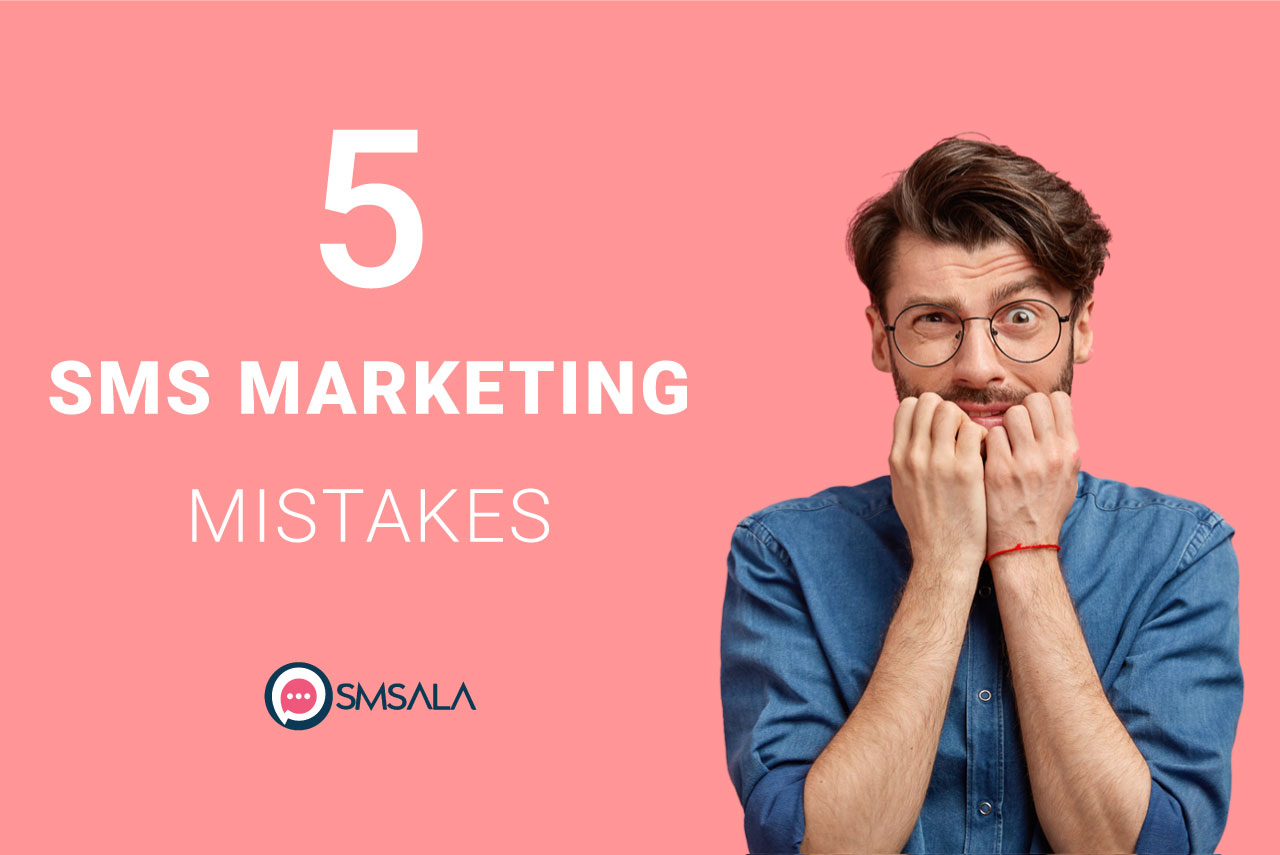 Marketing teams of businesses are tasked with the target of garnering more and more customers and ensuring a call to action is followed. While the teams are working on the strategy to entice new clients, some mistakes — knowingly or unknowingly — do make their way. For a successful SMS Marketing campaign, some mistakes, to be talked about in the following paragraphs, have to be avoided at any cost.
5 SMS Marketing Mistakes
With the number of communication channels between customers and brands increasing day by day, options available to audiences with varying tastes are aplenty. The SMS channel is very unique because you, as a product or service provider, are given direct access to the client's inbox. Below we have included the mistakes to be avoided while running a campaign.

1. Not Asking for Permission
Whenever SMS marketing comes to your mind, this is what ought not to be forgotten before kicking off the campaign. Always ask for permission from the ones you are sending your promotional messages to. You cannot send even a single message with prior explicit approval from the client.
The approval can be had by asking prospective customers to either fill in the form on the website or send a simple text on a given code, expressing their willingness to receive texts from the brand. Moreover, going through the local data privacy laws is essential before initiating a campaign anywhere in the world.
2. Blocking the Escape Route
Once you have gotten access to the client's inbox, opportunities abound for your enterprise. You get to market your brand. But, what you must not miss while sending the initial welcome message is the way to opt out of the marketing campaign for the receiver. It is advised to include, like in email marketing, the option to unsubscribe in every sent message.
Making it easier for the customer to opt-out is way better than holding on to a customer who does not want to hear from you. The exit route must be as simple as the entry route. It can be by just sending "STOP" on a given number or sender ID.
3. Avoiding Two-Way Communication
Who does not want to be heard? It is human nature to be given priority. After all, it is essential to make your communication interactive with your clients. This will ensure not only an increase in the number of customers, but this is an opportunity to build your brand.
People will definitely ask questions while making a purchase. If there is no one to get back to them, the possibility of losing a customer is very high.
4. Constant Messaging
The opportunity to convey your messages directly into someone's inbox comes with some obligations. Sending out too many messages without considering the customer history is uncalled for. You cannot sell fancy clothes to someone who never buys them.
One important factor that is often ignored is the timing of the campaign. You cannot send messages in the middle of the night, or before dawn. Sending too many messages will not help you grow, instead, it will prove detrimental to your brand's image.
5. Purposeless Campaigns
Every promotional campaign must follow a particular strategy. Without going through the trends in the market and planning accordingly, most campaigns fail to meet the expected target.
Bottom line
The SMS channel does help in connecting with your customers easily with minimal cost compared to traditional channels of advertisements, but if the mistakes discussed in the preceding paragraphs are not avoided, chances are what you were eying will never be materialized.