Why Text Message Marketing For Law Firms
After knowing the advantages, messaging, like any other channel of communication is highly sought not only by marketers, but different sectors have been employing the cost-efficient method of SMS to reach prospective customers. Similarly, text message marketing for law firms is turning out to be a worthwhile investment in getting in touch with prospective clients.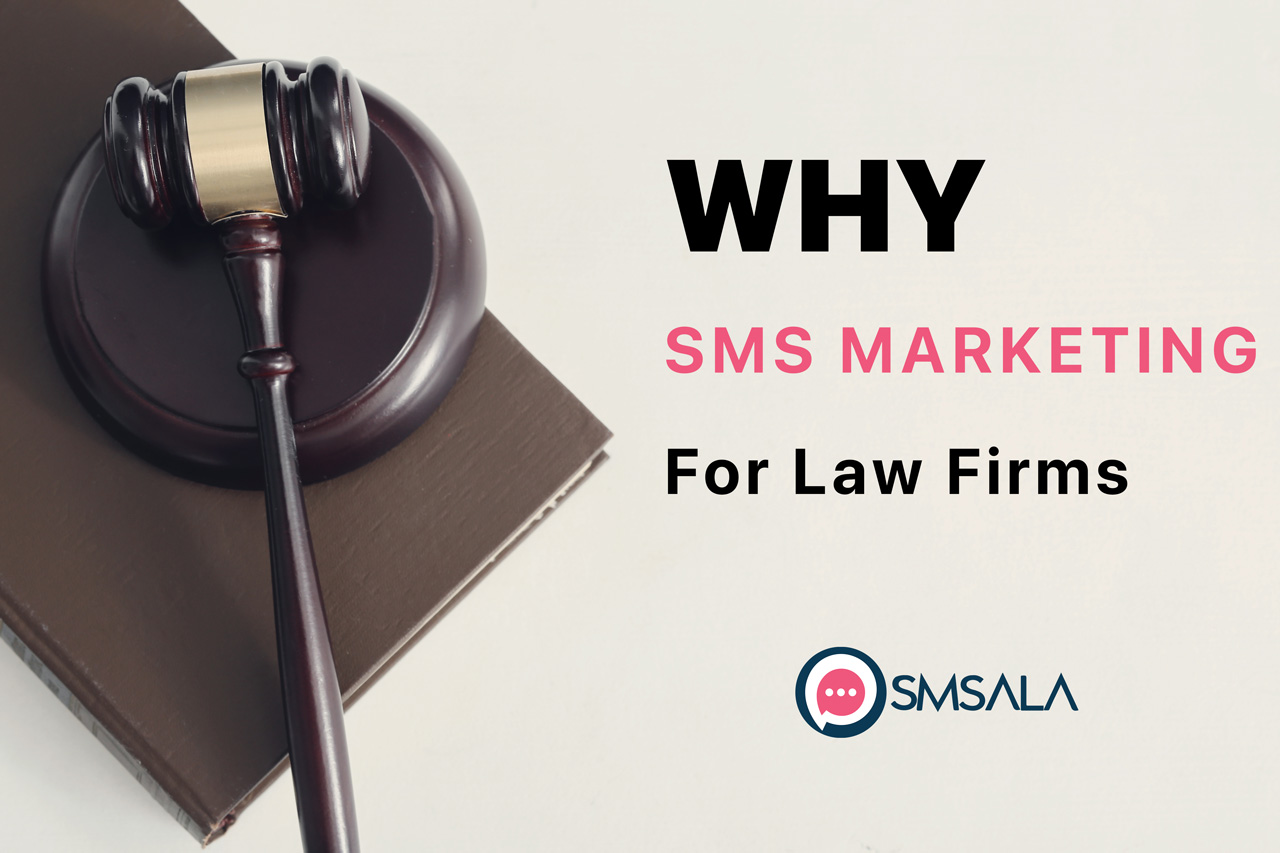 Since law firms send end number of messages on a daily basis via different channels to their clients, the need of using a highly reliable and convenient channel ought to be the priority. This will not only save the firm financially but the response rate from clients will be unprecedented.
Before going into how law firms can employ text channel to send Bulk SMS to clients across continents at a speed never thought of before, we will first delve into the necessity of having this channel in the first place for the exponential growth of firms.
Why Text Message Channel for Law Firms
In this section, we will highlight why SMS must be the go-to communication channel for easy and valuable interaction with clients.
1) Affordable
Unlike other channels, SMS, or what is also known as text messaging is reasonably priced. When compared to other traditional forms of marketing, SMS is not only cost-efficient but also has a higher return on investment.
Sending messages in bulk will always be inexpensive instead of calling separately. Further, advertising will eat up a major chunk of the firm revenue. So, it naturally becomes the most suitable option that allows you direct access to the client's inbox.
2) Phenomenal Reach
To send messages anywhere in the world, SMS is a channel that is not restricted by geographical conditions. From reaching out to clients in the global south to delivering texts to those in the northern hemisphere, texting is highly reliable. You will not be in need of Wifi to send out Mass SMS anywhere in the world.
On the other hand, if you have to reach out to clients via email or social media, having a data pack is the prerequisite. Additionally, all regions may not be having access to the internet.
3) The Option to Personalize
With SMS, you can send personalized messages. What better way to engage with a potential client than by sending a customized message addressing him directly?
This is what is possible with SMS. You can send thousands of messages instantly while adding a personal touch. By doing so, the receiver feels valued and connected at the same time.
Use Cases of Text Message Marketing for Law Firms
Here we will discuss how legal teams can use SMS to their advantage and make the communication process smooth and efficient.
1) Corroborate Appointments
With SMS, you can confirm the appointments of your clients. This is instant because the moment a message is sent into the inbox, people usually engage within a few minutes. Given the open rate of 98%, the receiver is compelled to check the inbox within a few minutes of receiving a message.
Instead of waiting for the client to respond back to the given email, which is rarely opened, SMS is considered to be the most suitable channel for instant communication.
2) Engage with Prospectives
If you want to get in touch with new clients, using keywords for communication purposes will certainly help. You can publicize these either on social media or by displaying them on hoardings.
3) Update the Legal Team
Within the organization, SMS can be very beneficial for quick and efficient communication. The channel will be helpful for updating the team about any necessary changes within the firm.
4) Answer Queries
There are end number of questions that a client wants clarification on. You can use the channel to respond back to your client on the platform. These can be questions related to the case to be answered directly by the lawyer.
5) Updates About Cases
If you want to inform the client about the case or update him about the case immediately, then this is the channel to be used by the law firm.
Conclusion
Employing the SMS channel to improve the efficiency of communication with your clients, Law Firms, while using text message marketing, must remember that it is essential to seek permission from the receiver before sending out any message. Besides following the legal requirement, firms must not forget to include an opt-out option in every promotional message that is sent out