Communicate With Employees via SMS
With a lot of tools available to communicate with each other within the company or an institution, sometimes, keeping track of important information is missed by many in the group. To ensure no one misses out on essential updates, it's now widely accepted that communicating using SMS is the best alternative available.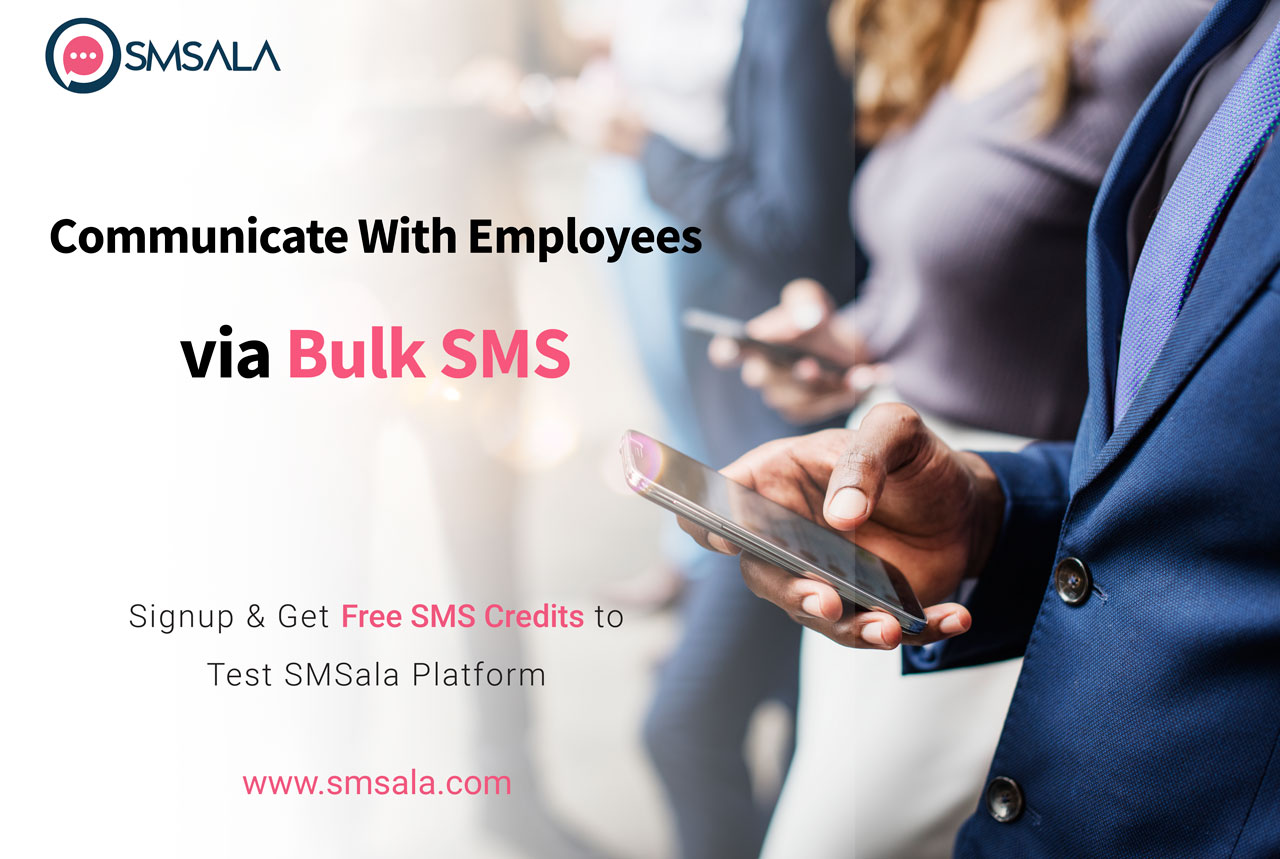 In most organizations, messages, urgent or usual, are sent through slack. But it has a drawback that most of the employees are not always online and do miss the relayed message from higher-ups.
Besides the unavailability, screens are flooded with information. This overflow of content arriving on the desktop does not let employees get to the special message from the boss.
So, to avoid this uncalled-for hassle and have efficient two-way communication with your employees both on the desk and on the field, texting directly into their inboxes is the way forward.
Before detailing how and where you can use the SMS within your outlet, let's first get into the benefits of the service.
Characteristics of SMS Service
Best Channel: In terms of efficiency and reliability, SMS is the one that stands out among other two-way channels of communication available. Unlike email, the open rate is much higher. People rarely open their emails to check incoming ones.
Time-Saving: In a fast-paced world, time is the most invaluable resource. To ensure that employees spend a good part of their time on work and become productive, communicating with them directly and instantly is fully taken care of by text messages.
Schedule your text: If you want to make sure that all employees receive the special message on a specific day, you can schedule the message in advance without waiting for the last hour. This has been of help to many in other fields.
Cost-Effective: The service is one of the cheapest. Besides being easy and simple to use, the cost of streamlined communication is not expensive.
Uses of SMS in an Organization
Timely updates: In both micro and macro companies, sending timely updates to employees is not an exercise done once in a while. More often than not, people working within the organization are required to be informed. Within no time you can send messages to all in the group.
Special messages: To ensure that special messages meant for one or many reach the desired destination is possible by texting directly into their inboxes.
Interact with the non-desk lot: To communicate with those employees who are on the ground away from the gaze of computer screens, texting is the solution. You can remain updated with their work at the same time while working in an office.
Reminders at the eleventh hour: If you want to remind your employee of something important and you forgot to convey it during office hours, you simply have to text and rest assured of delivery.
Schedule shifts: Since the culture of working 24/7 is a routine for many companies, the task to schedule the shift is necessary for the convenience of employees. This is mainly found in the BPO sector. Just by a message, people will be informed about their shifts without having to check email for such tasks.
Communicate Outside Office: Employees don't carry their laptops all the time. For any office-related communication, you can directly reach them by texting even outside office hours. This has helped many in putting across the required message.
Polling within: To have a voice or view of the team on any issue instantly, you can send a message and receive a reply from all within no time. SMS polling will surely help.
Inform about benefits: If employees are not well versed with the latest benefits offered by the company, it's much easier to convey them via Bulk SMS. All will get to know and no one will be left behind.
Job openings: If and when there is any vacancy in the company, giving all the chance to apply is a prerequisite. You can communicate by texting directly into their inboxes.
Appreciation messages: The hard-working team members in your company deserve recognition and a few words of admiration. This will encourage others to improve as well. You can send these words of appreciation in the shortest possible time by texting.
Monthly Expenses: If you want to remind employees of the submission of monthly expenses, the easiest way without clutter is by messaging them about it.
Some Examples of Text Messages
Office Closed

Hi,

Keeping in view the forecast by the weather department of heavy rainfall, you are advised to work from home instead of coming to the office.
Shift Changes

Hi Imran,

As Shahid has preferred the night shift due to his exams, you are expected to work during day hours for a few months.
Polling

Hi,
We would like to know which cricket tournament we should be part of. Please, choose one:
1) MCC
2) KPL
3) County
Some Do's and Don'ts
Always keep the message simple and brief.
Don't overuse texting in communicating with employees.
Ensure that all are informed of any new decisions by the company.
Encourage two-way communication.
Now, if you want to start this journey and reduce the daily hassle, and make it convenient for your employees, then SMSala is the SMS Service Provider you can rely on.
We give you the option to test our service for free to make the benefits of our service known to you. For trial purposes, we provide you with 20 free messages.