Benefits of Bulk SMS For Real Estate Business
You must have tried various marketing methods — television, newspaper advertisements, and hoardings at different places – to reach customers interested in real estate. But as has been witnessed, the result would not have been satisfactory. This is where a unique and direct communication channel — Bulk SMS comes to lift your business.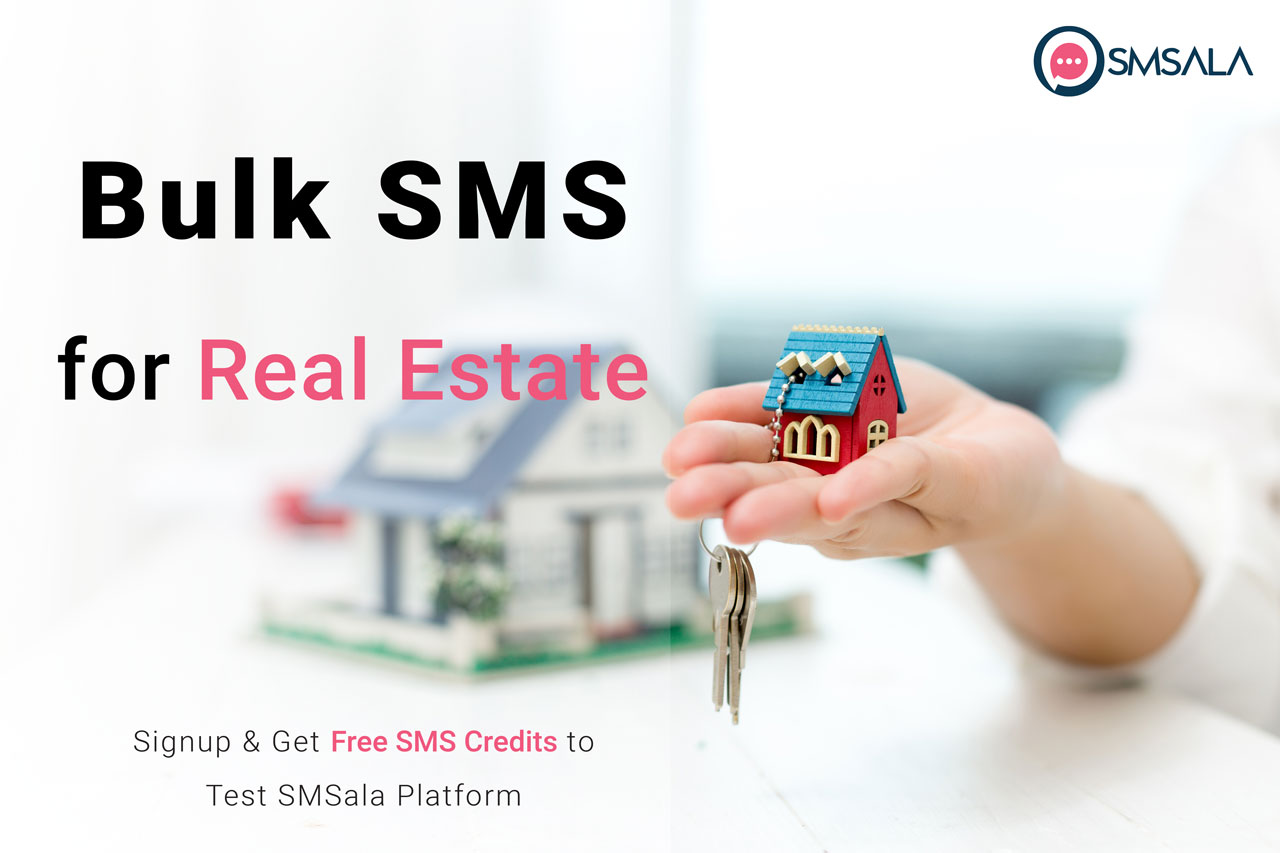 Having spent lacs on other modes of marketing strategies but did not try the cost-efficient Mass SMS service, you have been going the wrong way.
Now many questions arise what this way of reaching via text messages is? How can it help you? Why should you opt for it? Don't worry, we will discuss all related things below in detail.
What is Bulk SMS?
In simplest terms, it's sending out messages to a large number of customers at the same time within a matter of seconds. This is used almost by all big and small enterprises around the globe for direct and instant communication. Among the marketing strategies available, of late SMS marketing is leading the way.
Statistical Figures SMS Marketing
The astounding open rate of SMS is 98%, leaving behind email's 20%.
75% of people prefer receiving advertisements via SMS.
The average response time for SMS is 90 seconds, while for email, people usually reply back in 2.5 days.
Why Choose Bulk SMS For Real Estate
Platform: To share information related to your entity, you need a platform that reaches a maximum number of people instantly. This option will help in bringing down reliance on other marketing strategies
Promote Sales: Who does not want to increase sales? But your earlier ways might not have given you the return on investment (ROI) as desired. By connecting via text messages, you increase the chances of closing deals in the easiest and most affordable way. Moreover, you can send promos to a large number of clients in a jiffy.
Native Language: Most of the clients are concentrated in a specific region, so getting in touch with them in a local language will make it more personal and easy for the customer.
How Bulk SMS Helps Real Estate Owners
Increase Traffic: After having spent crores in the sector but now sitting idle most of the time in the office is frustrating. To get in touch with customers from the comfort of the office, you have to approach them by collecting the database from various service providers. This change of approach will increase the flow to your website and complaints of no work at all will fade away with the passage of time.
Send at Once: Time which is considered the most valuable resource a human being possess cannot be spent haphazardly. People, nowadays do not get time to read newspapers in detail and watch advertisements on television. They spend most of their time on mobile phones and connecting with them directly is the most viable option. You can save time and effort by sending a pre-recorded message to all clients at once.
Latest Updates: To inform customers about any changes within no time, you can avail of Bulk SMS services. These can be related to changes in price, reminders for paying monthly installments, and much more.
Deals and Discounts: Timely deals and discounts can be communicated to loyal and prospective customers by text messaging. This does away with unnecessary spending and the gap that initially was prevalent.
Choosing an SMS Service Provider
If you feel that this is the strategy you were missing out on and will help boost your business, then you are bound to get in touch with Bulk SMS providers. We recommend analyzing and comparing the players in the market.
Here are some points you must consider while selecting the service provider:
The service is offered in different countries. The maximum the number of countries covered the better.
One that does not compromise on security and privacy. You must check this during the trial period or read reviews about the concerned subject.
The customer support system must be reliable because you do not want to leave any chance for mistakes while communicating with clients. Ensure your support team is always with you on different platforms.
Now if you want to start this journey and reduce the daily hassle in the real estate business, then SMSala is the Bulk SMS provider you can rely on for streamlined and cost-effective service.
We give you the option to test our service for free to make the benefits of our service known to you. For trial purposes, we provide you with 20 free messages.