SMS Marketing For Insurance Companies
Like other businesses, Insurance companies want to proliferate beyond borders. However, it is not as easy for insurance providers, as it is for other direct-to-customer enterprises. Here besides being a difficult task to acquire more and more customers, retaining customers is a herculean task. But with SMS marketing, the task at hand becomes easier.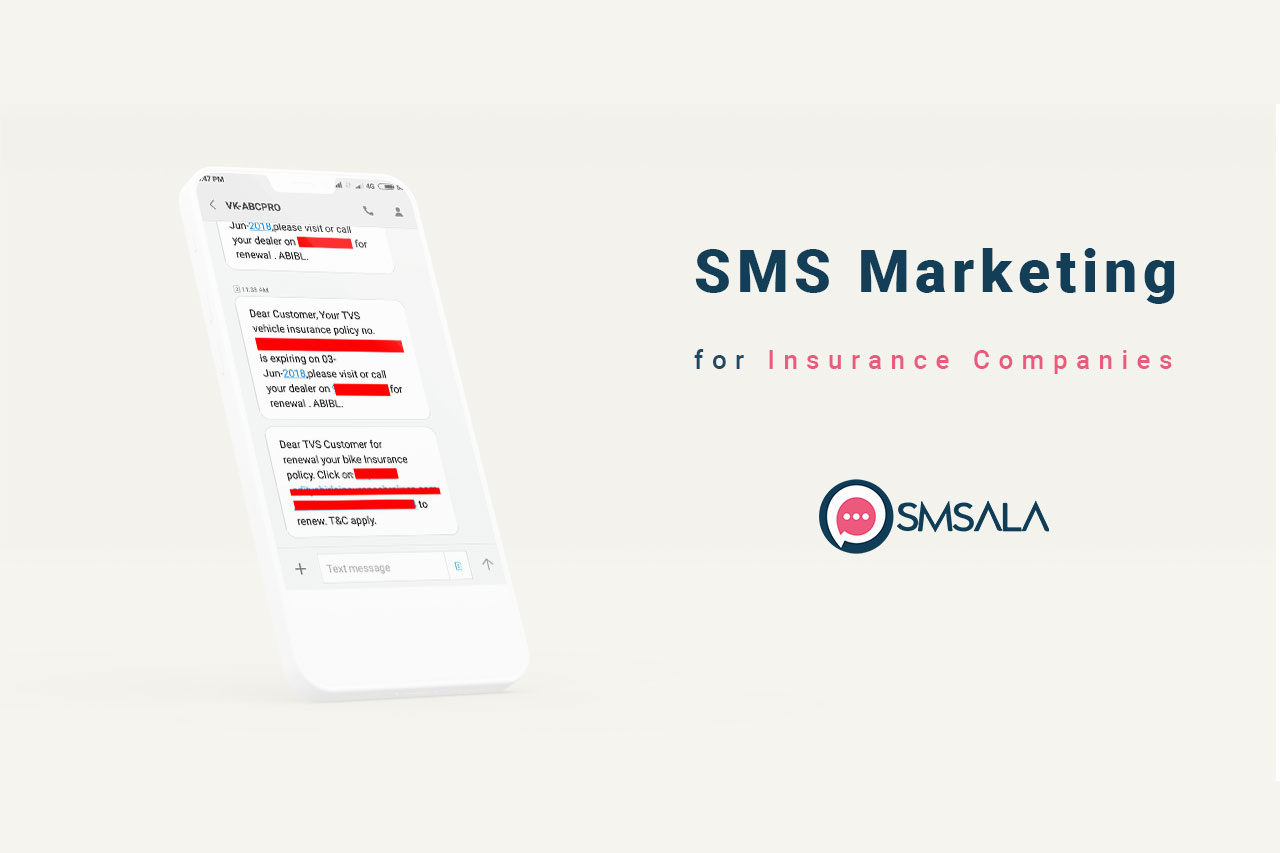 There is no denying the fact that SMS has an astounding open rate compared to other channels of communication. With the possibility of your message being read every time you send one, instant messaging opens up a lot of opportunities for insurance companies to get in touch with loyal and prospective customers.
For you as one that offers insurance, you will not only be able to garner more clients, but with the use of Bulk SMS, you will be building relationships that will help you in the long run. Further, you will be able to connect instantly and reach out to customers multiple times during the day. This is because people tend to check their phones more often.
Why SMS is The Preferred Communication Channel For Insurance Companies
Instantaneous: With this channel, you are just a click away from reaching your client. Sending out all important information can be done in a jiffy.
Accuracy with brevity: As fast as SMS is, the sender is bound by the 160-character service to be accurate and brief at the same time. The option to ramble is not in this channel. People prefer short and concise texts.
Cost-efficiency: Brands have heavily shifted to this form of marketing more recently because of its cost. Compared to other forms of marketing, this is the cheapest yet most versatile.
Targets are individuals instead of groups: Unlike traditional forms of advertising, SMS allows businesses to target individuals in place of groups. This is more personal and direct in nature.
How Can SMS Help in Widening the Pool of Customers?
Selling a product or service is easy for enterprises, but convincing people to acquire an insurance policy is cumbersome. Taking into consideration all the difficulties that come the way, here are some ways to follow through which you can make the process easier:
Earn trust: As in our day-to-day relationships, getting someone to trust you is not easy. But by connecting with loyal and prospective customers on a one-to-one basis, the results are desirable. With the channel always ready to hear, people can get in touch with their queries whenever they want to.
Sell your new policies to existing customers: The streamlined channel that you use to connect with your existing customers can be used to sell new policies. Through this medium, you can ask the one who has opted for life insurance to buy health insurance that has been launched recently.
Renewal offers an offer: When the renewal time of your existing client nears, share with them what else they can opt for a better future.
Ask them to share: One of the best and easiest ways to acquire new customers is to convince the ones who have already bought your policies to spread the word. People trust immediate family members and friends more than an insurance agent who sells them the policy.
Some Uses of SMS for Insurance Companies
The concern of every insurance company is to know how SMS as a channel can be used to increase the customer base. Below we have discussed a few use cases of SMS:
Inform about policies: After collecting a large number of contacts of those who want to hear from you, the first step is to introduce your company to policies available for prospective clients.
For instance, Hi Zahid, Thank you for opting in to receive messages from XYZ Company. We will assist you in financial planning. You can text us or call us for further information.
You can also inform the existing users about the claims they have made. Instead of spending hours traveling to the concerned office, clients can be informed about the claims while at home. The process becomes easier by texting the details.
Text for profile updation: This often happens with insurance agents when a prospective client leaves without filling in the complete information required. To avoid this unwanted occurrence, simply send the text for the completion of the profile. In this way, you can ensure the retention of clients.
For instance, Hi Rakib, Your application for property insurance is incomplete. Click the link and fill in the required information to insure your property.
Conclusion
The necessity of SMS marketing for insurance companies cannot be denied. But what companies need is a reliable Bulk SMS provider, like SMSala that can take care of the campaigns from beginning to end. By employing SMS you can ensure an increase in customers and more importantly retain the existing ones.