Bulk SMS for Airlines & Aviation Industry
With time, people are preferring easy, economical, and fast modes of travel. With the profusion of airlines, travel has become easy and economical but the competition between carriers has increased a lot. To reach passengers directly, airline carriers are using the cost-effective Bulk SMS service as a marketing strategy to draw customers.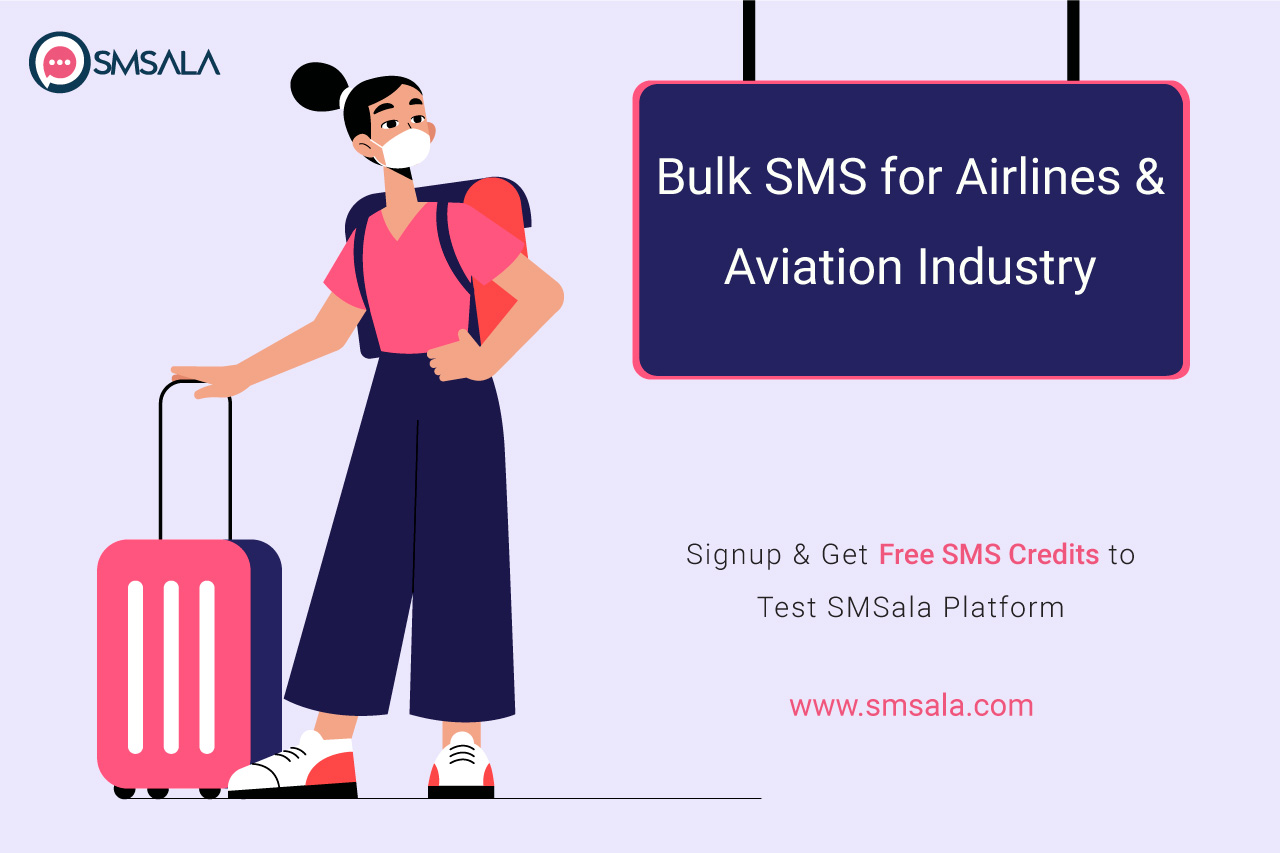 But why are the big players in the airline industry heavily relying on Bulk SMS service? Don't know? Wait, before delving into the reasons and where you can make use of this unputdownable marketing strategy, let's skim through a few stats.
Bulk SMS Statistical Figure
91% of customers would opt-in for text messages from brands.
58% of customers believe that SMS is the most effective way for brand communication.
The open rate for text messages is an astounding 98% and most of them are read within the first 15 minutes.
If the above-given figures do not suffice, let's directly get into the areas where text messages are used by airlines to reach a large number of customers.
Where Bulk SMS can be an Effective Method
Discount Coupons: In an industry where competitors are looking for different ways to get customers, using a text marketing strategy has seen phenomenal results for all. Now, spending on billboards, and TV ads to reach your customers is fading fast. You can directly send discount offers to the inboxes of your loyal as well as prospective customers in a matter of a few minutes.
Timely Reminders: Nothing is more important to a traveler than being reminded of the schedule and gate number to be approached once at the airport. You will not be in need of communicating via email or customer representative for these reminders if you choose to text instead. This not only saves time and resources but frees up staff for other necessary work.
Change or Delay: There is no better way to communicate the change or delay in a flight to your customers than by texting them. People need to be informed in advance about these changes. If they are not, the experience will make them look for another carrier in the future. So, to hold unto your loyal and grab the attention of prospective ones, you must rely on better messaging at the earliest.
Special Offers: When you can reach your customers directly in their pockets, why waste dollars on TV ads and humongous billboards? Whenever there is an offer for a special category or one who frequently travels with you, conveying them by texting is the most efficient way. Advertisements on different channels have the drawback of not reaching the maximum. But a simple SMS directly sent into the inbox will reach millions instantly who don't watch TV or read a newspaper.
Instructions: To make the journey of first-time travelers hassle-free, some guidelines can be texted to them. For instance, telling them about the weight of bags or trolleys they are carrying can be very helpful.
Adoption of Bulk SMS Service instead of any other marketing strategy, the return on investment or ROI is very high. It is not only the airline industry but all other micro and macro companies around the world, are choosing Mass SMS service for efficient and streamlined communication.
Now, if you want to start this journey and reduce the daily hassle, and make it convenient for customers, then SMSala is the Bulk SMS provider you can rely on.
We give you the option to test our service for free to make the benefits of our service known to you. For trial purposes, we provide you with 20 free messages.