Top 5 Best Bulk SMS Service Providers
Before Selecting a Bulk SMS Provider make sure that it meets all your expectations. Don't just go by the name instead believe in your own experience. The Best Bulk SMS Service Provider not only will have affordable pricing but it will surely have some extraordinary features which differentiates it from the rest.
There are lot of factors to be considered before choosing Bulk SMS Provider. Make sure that there are no hidden charges and fake delivery report is not shown to you. So first try and then buy.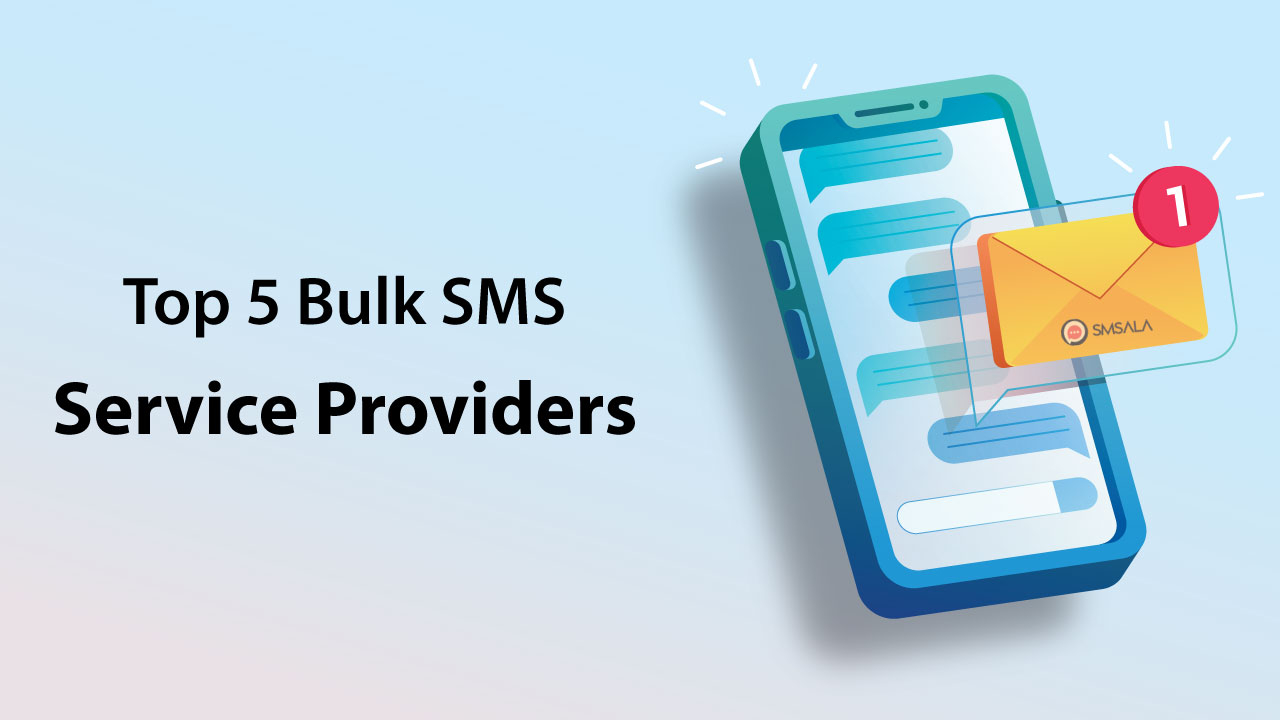 This list will give you detailed information on Bulk SMS Providers that are best in the industry.
1) SMSala: is the leading name in the field of Bulk SMS service providers. It was started in 2000 and till now it has a database of 2.5 million registered users. You can expect a high-quality service from SMSala. Some of its features which makes it the best among the rest are:
Unbeatable Rates and Delivery Speeds
Quick routes with API integration
Scheduled Campaigns
Two Factor Authentication
Personalized Sender ID
Messaging Quality
SMSala's easy interface and robust technology make it the ideal choice for every marketer. Millions of users trust SMSala for their bulk sms needs. There is no need to invest a large amount if you are a startup and want to grow your business gradually. SMSala also provides flash SMS, sending SMS in Unicode, etc. You can test our service by sending free SMS as well. There are as such no cons of using the services of SMSala
2) Msg91: Msg91 has secured the second position in the list of Bulk SMS providers. It claims to provide a worldwide coverage with its service. The main disadvantage of using their service is that the price rates are quite high. It is not suitable for startups or small-scale businesses as they have to invest a lot of money for Bulk SMS services.
3) Text local: Text local is a UK-based brand emerging in India which is slowly gaining popularity. Though its services are good but the main issue is with the pricing.
4) SMSHorizon: SMSHorizon It is a Bulk SMS Company based in Tamil Nadu. It is famous for its real-time 100% delivery and is one of the popular bulk SMS service provider companies. Let us quickly check the benefits and drawbacks of using this Bulk SMS service provider.
5) BhashSMS: BhashSMS is a cost-effective Bulk SMS Service Provider in India. Although the prices are quite low yet it does not ensure 100% delivery.
While each of the services is good on its own, a tough competition is existing between all the service providers. Despite the competition, the market is always looking for meaningful disruption. The more players come in, innovate and devise better services, the better is the scope for the development of the industry.
And, in order to find out the best service providers based on the parameters we mentioned earlier. While winners deserve a special entry, it needs to be said that there are many other companies as well who are good and trying to scale up.